Change Skin
This page allows you to choose a skin for this site, according to your preferences. Just Click on the skin you wish to change into. Hover over the screenshots to see a few notes on the skin.
Current skin:







Meanwhile, I also would like to show you the previous layouts before using phpsiteskin: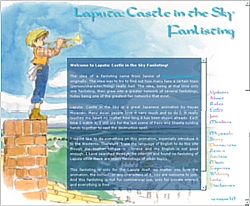 Version 1.0
Time: Nov 2002
Idea: This is my most favorite image of Laputa, so I use it as my first layout. The effect is so good that I cannot take it off from my site. So, you can view it for over four months. This image reminds me of the trumet song of the soundtrack. It is a wonderful music and so does this image. It can always give me a very refreshing feeling.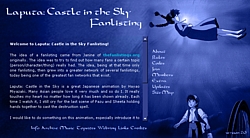 Version 2.0
Time: Mar 2003
Idea: This image is a classical scene of Laputa. I think all the people who have seen this animation must remember this scene. It is so impressive and cannot be forgot for so many years. This is one of my favorite image also. I use the blue color as the main theme which is much different from Version 1.0. This blue color can give a very silent feeling just like the moment Pazu waiting Sheeta landing from the air.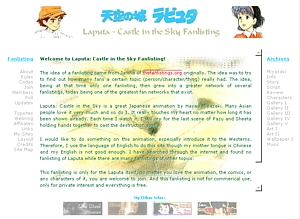 Version 3.0

Time: Jul 2003

Idea: Since this site has been quite developed and many pages need to be displayed on the navigation, so I have built a simple layout and made the navigation a little bit easier in the left and right. In the left, it is the area for the fanlisting and site stuff. In the right, it is for the Laputa Archives. Hope this structure can make the members and guests find their way easily.

The image I have used in the center features Robot and Sheeta. Many members like Robot very much and I find this image is very beautiful, so I use it for this layout. I have just used a few effects on this image, just framed it and made it look like it is a dream, the effect is quite fancy.




April 2005 has started to use phpsiteskin